WELCOME
Tomahawk Diving
Dare • Dream • Dive
Upcoming Events/ New Programs
 
Dryland Only Classes
check out our program information for details and pricing
Dryland is by far the most important part in training for diving. You can accomplish a lot more in a shorter amount of time than you can in a pool because you do not need to climb out of the pool each time. Our dryland only classes will focus on diving specific drills and skills to help the divers progress as quickly as possible.
Masters Diving
check out our program information for details and pricing
Diving is fun for people of all ages. You are never too old to experience the sport of diving. We are looking to expand our programs and offer masters diving classes. For right now we will be offering a masters diving class to anyone 18 and over one day a week. As the demand for masters diving expands so will our class schedule. We will be teaching our masters divers the basics and fundamentals of diving and as they grow and improve we will be teaching them lists so that they are able to compete in competitions.
Bring your friend to practice
Check out our calendar for upcoming events
We are going to have a Bring your friend to practice day once a month! Check out our calendar for dates! We are inviting anyone who is either currently on the team, who has once been on the team or who has never been on the team to come and dive with us. That includes kids from age 6 to 99, so parents are more than welcome to attend and dive with their children. It will be $10 per person and we are hoping to show everyone what diving is all about. A lot of people do not quite understand the sport or do not know if it is something they would enjoy. This way it will be a cheap fun way for everyone to get to try out the sport. We would love to have you!! Our goal is to have at least 75 people join us so bring everyone!
Training Trips
Contact us to set up your team training trip with us now. We can set up any requests you would like whether they are for a couple days or a couple weeks. Let us know what you would like to do and we will come up with the best plan for you and your program.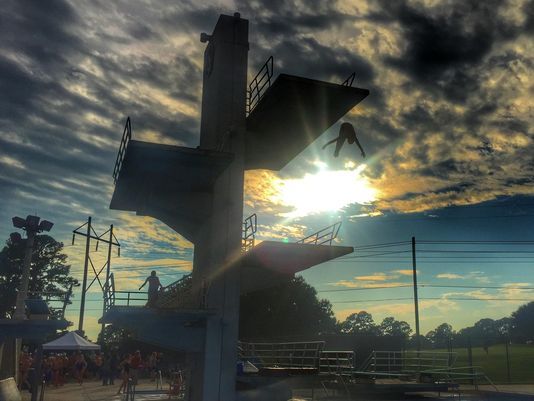 Lessons to Olympians
We believe in structuring our practices and groups so that you are getting the most out of your diving experience. Whether you are 5 or 95, just starting out, doing it for fun or have ambitions of being an Olympian we have a program to fit your needs. If you are ever unsure about what program might be right for you please feel free to contact us and we will help you determine what is right for you.
World Class Facilities
We pride ourselves on not only having top level coaches but top level diving facilities as well.
In 2008 Florida State opened its new $10.5 million Morcom Aquatic Center. This state-of-the-art facility is located off-campus next to the Don Veller Seminole Golf Course.

The diving well features two one-meter and two three-meter springboards as well as one, three, five, seven-and-a-half, and ten meter platforms. The platforms are 10 feet wide, making them the widest in the nation. The diving pool is kept temperature controlled at 82 degrees and also features a compression bubbler, which is used to soften a divers impact during entry while practicing platform dives. Divers will also be able to practice their dives using our dryland equipment; the facility is equipped with four dryboards and 3 trampolines, one of which has a spotting belt system.